Thank you for visiting CVI!
CLEAR VIEW INNOVATIONS
CVI's collection of mobile device mounts, holders, stands & portable backdrops is AV Apparatus. Our newly developed scheme for interpreting in signed and spoken languages is Interpretation Design.
We welcome you to explore both of our divisions and will be pleased to respond to your questions and comments.
.CVI STUDIO Video Backdrop
BENEFITS:
- For professional, studio-quality video creation and video communication
- Goes anywhere in your office or home without disturbing furniture, ...equipment, materials, walls and people.
- Set-up and take-down in two minutes; stores compactly in a corner
(click images to enlarge)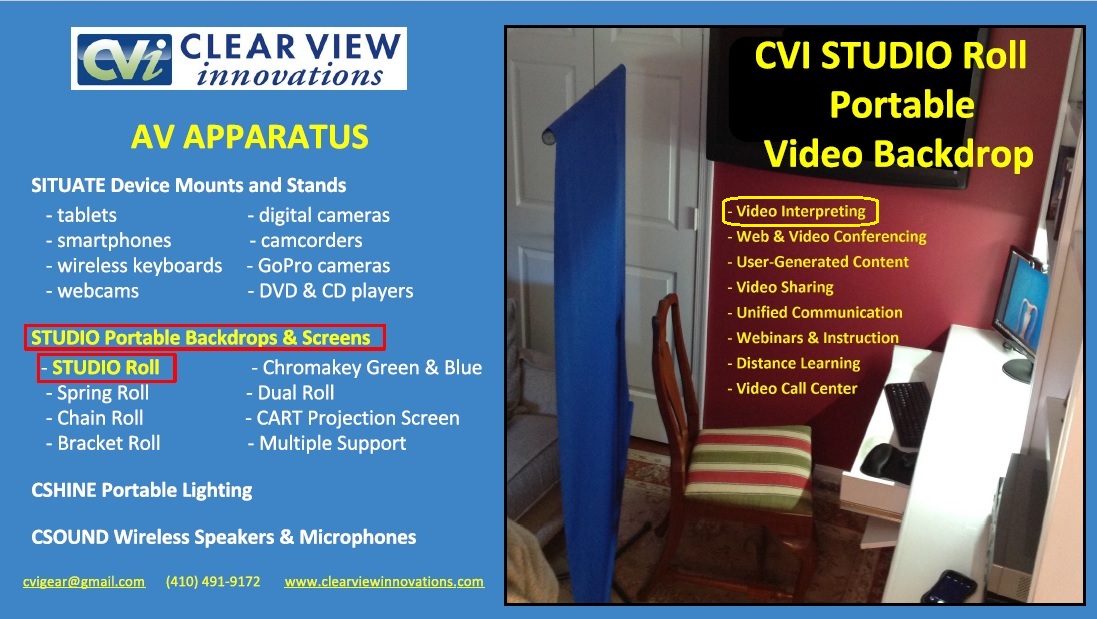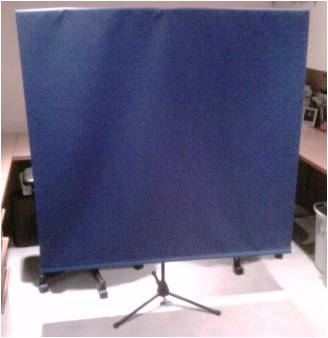 CONTENTS:
- 58" x 58" Royal Blue matte durable fabric
- Telescoping microphone stand with tripod that goes up to 63"
(Click here for videos and more information)
$185 plus shipping (ground - $20-$35); Call or email to order!
Works great with all video platforms.
VRI and VRS Interpreting
(click here for full flyer)
Steve Frank brings over a decade of experience in video interpreting and program management. He created and ran a VRI program that innovated new methods. Steve's program made many firsts by interpreting remotely for webinars, IRS taxpayer assistance and workshops in Canada and Guam.
"Steve lives and breathes this stuff."
AV Apparatus™
SITUATE

™

STUDIO

™
Mobile Device Positioning & Holding System Portable & Fixed Video Backdrops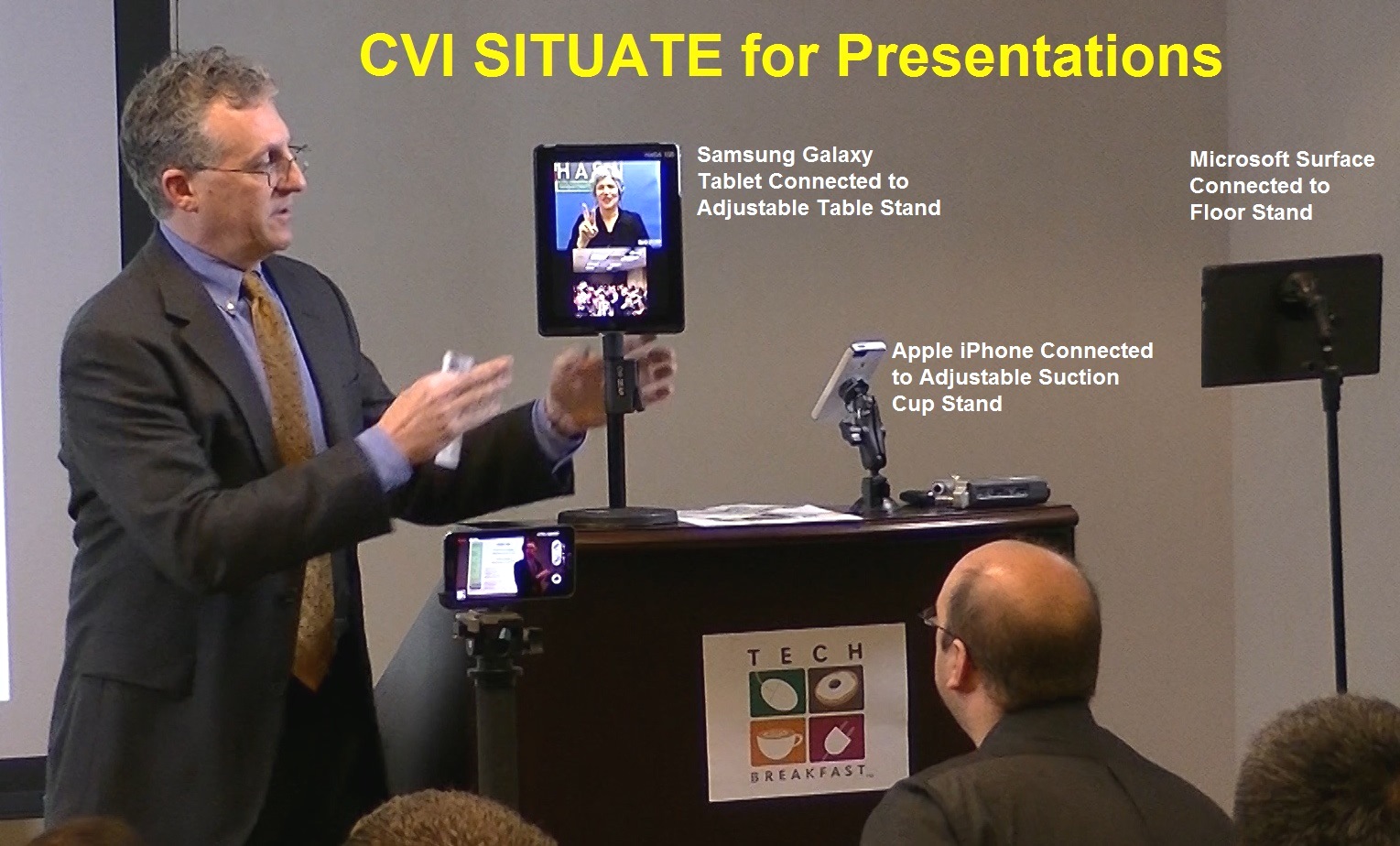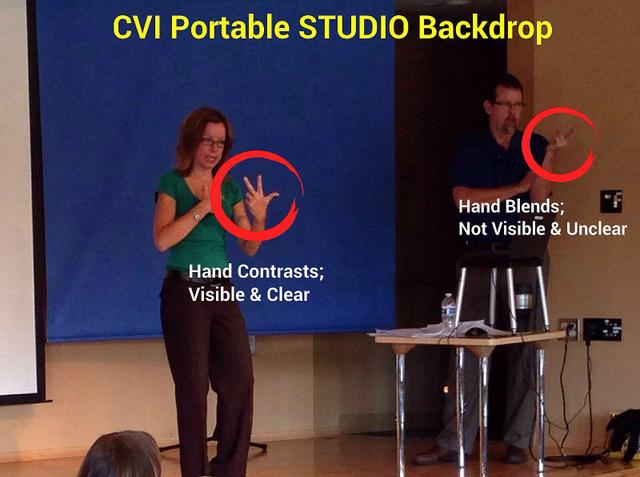 More AV Apparatus photos - TBD
Tablet Mounts and Stands for Virtual Learning
---
Apple VOICE CONTROL
CVI Voice Control Guide: NY Times Crossword - Mini
Webinar Details
Free 1-1 Training
JOIN: https://zoom.us/j/9846699099
---
Purchases
AV Apparatus (AVA) and Interpretation Design (ID) offerings are intended primarily for Business-to-Business volume sales. AVA has dozens of components and thousands of solutions depending on dimensions, colors, finish, configurations and function. We want you to receive precisely what you need!
Most apparatus orders take 10-14 days, though we encourage you to inquire in case we can accommodate your urgent time frame.
ID offers services related to the adoption and implementation of ID, e.g. presenting, consulting, training, interpreting, operational support and program design, evaluation and revision.
Interpretation Design™
for English to American Sign Language
in schools, colleges, workplaces, seminars, cultural performances and houses of worship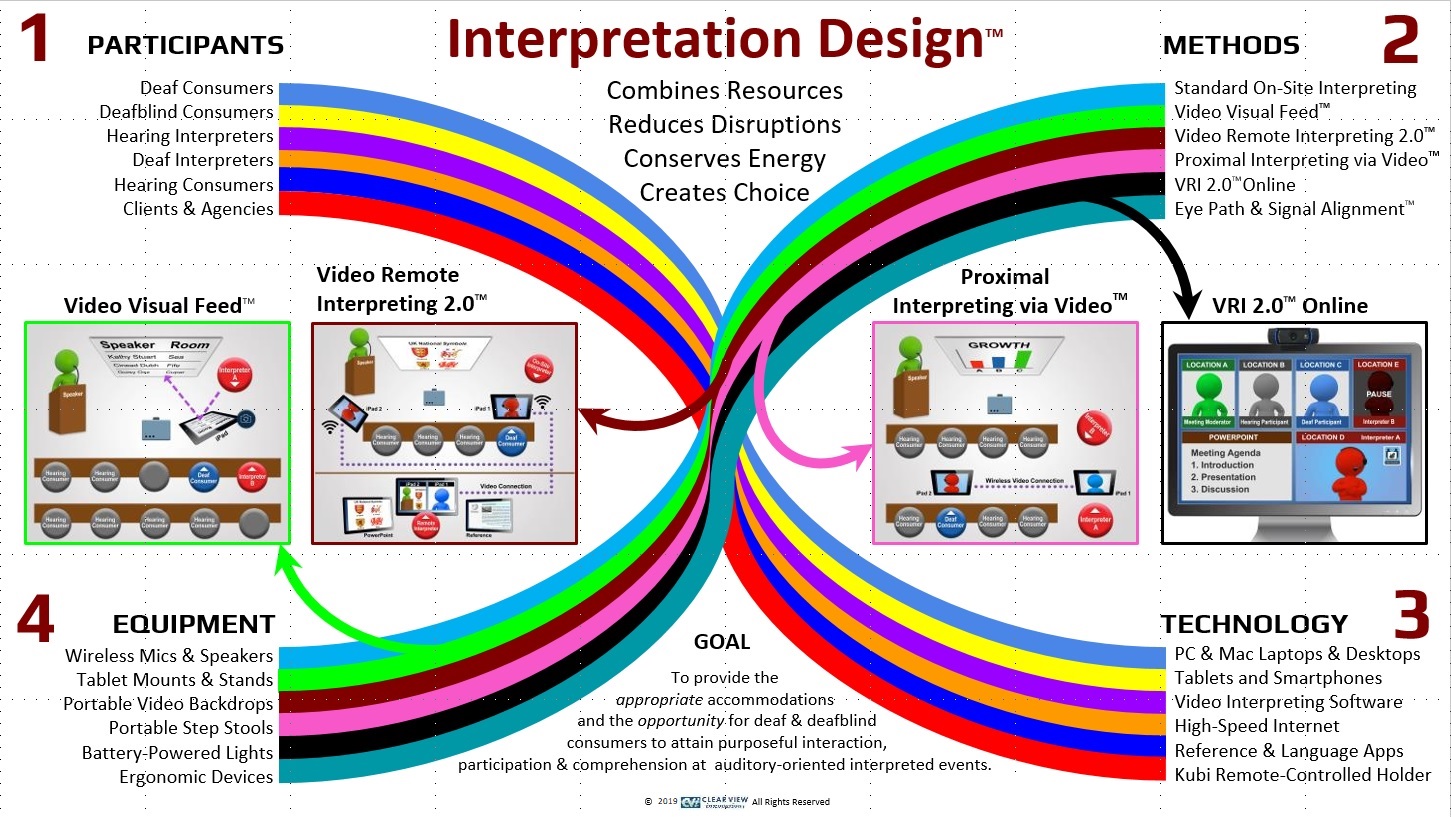 Please click here or on diagram to enter Interpretation Design.
---
. Presentations & Papers (click titles to view)
1. 2022 RID Region III Receiving and Incorporating Visual Information in English-ASL Interpreting
2. 2019 RID National Conference Receiving and Incorporating Visual Information in English-ASL Interpreting here and here
3. 2019 Mt. Aloysius Student-Run Interpreting Conference Interpretation Design
4. Proximal Video Interpreting: Description & Case Study
5. NBDA 2017 Blended Interpreting: Charge & Choice
6. PCRID Workshop: Dynamic Positioning & Visual Field
7. Blended Interpreting; Critical Link; Edinburgh, Scotland
8. InterpretAmerica 5: CVI Video Remote Interpreting 2.0
---
Contact Information
Please contact us to discuss your needs.
Steve Frank (410) 491-9172 cell/text
Clear View Innovations cvigear@gmail.com
61 Penny Lane www.cvigear.com
Baltimore, MD 21209 Skype: cvigear