Thank you for visiting Clear View Innovations (CVI)!
.
NEW! Presentation at 2019 RID National Conference in Providence
"Receiving and Incorporating Visual Information in English-ASL Interpreting"
(click here for presentation and here for flowcharts)
.
CVI's collection of mobile device mounts, holders, stands & portable backdrops is AV Apparatus. Our newly developed scheme for interpreting in signed and spoken languages is Interpretation Design.
We welcome you to explore both of our divisions and will be pleased to respond to your questions and comments.
AV Apparatus™
SITUATE

™

STUDIO

™
Mobile Device Positioning & Holding System Portable & Fixed Video Backdrops
Please click here or on either photo to enter AV Apparatus.
---
Read Holdware Blog Posts on LinkedIn
12-27-17 Holdware 12-28-17 BYOH 12-30-17 Interest
01-04-18 Form w/o Function 01-06-18 All-in-One 01-09-18 Tablets
01-16-18 Mobile Attachment 01-19-18 Unappealing Appeal
01-22-18 No Respect 01-24-18 Who Makes MD Mounts
---
Purchases
AV Apparatus (AVA) and Blended Interpreting (BI) offerings are intended primarily for Business-to-Business volume sales.
AVA has dozens of components and thousands of solutions depending on dimensions, colors, finish, configurations and function. We want you to receive precisely what you need!
BI offers services related to the adoption and implementation of Bl, e.g. presenting, consulting, training, interpreting, operational support and program design, evaluation and revision.
We do encourage individuals to inquire if CVI can accommodate your time frame since most orders take 10-14 days.
We appreciate your interest in the CVI products and services and thank you for visiting the CVI website.
Interpretation Design™
for English to American Sign Language
in schools, colleges, workplaces, seminars and houses of worship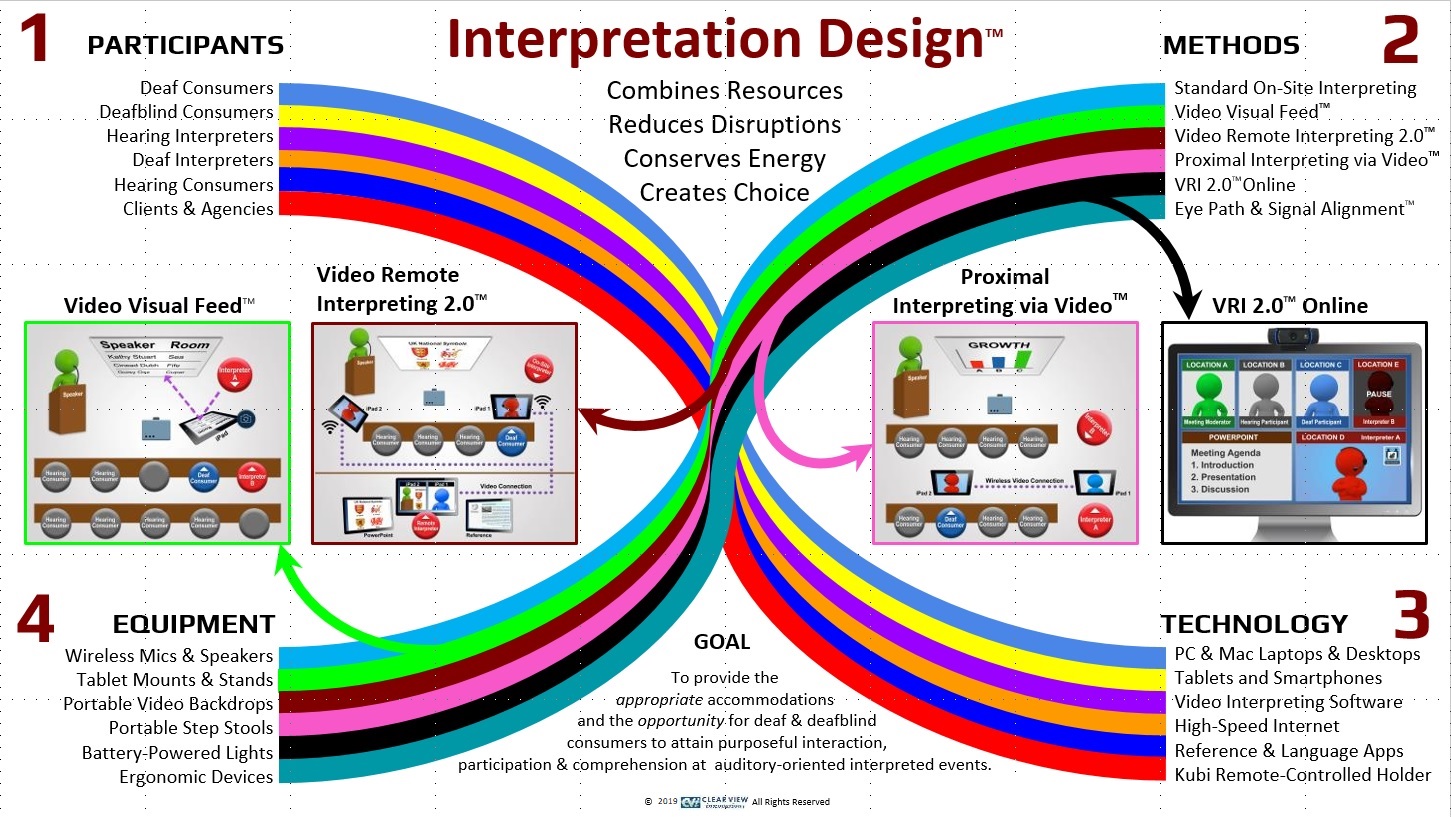 Please click here or on diagram to enter Interpretation Design.
---
Presentations and Papers
2. Proximal Video Interpreting: Description & Case Study
3. NBDA 2017 Blended Interpreting: Charge & Choice
5. Blended Interpreting; Critical Link; Edinburgh, Scotland
---

Contact Information
Please contact us to discuss your needs.
Steve Frank (410) 491-9172 cell/text
Clear View Innovations cvigear@gmail.com
61 Penny Lane www.cvigear.com
Baltimore, MD 21209 Skype: cvigear
New Physical Address!